Research
Khalil Abboud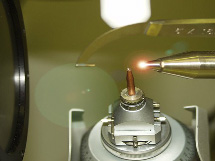 The X-Ray laboratory at the University of Florida/Department of Chemistry provides single crystal structure determination expertise to characterize newly synthesized materials. All crystals of Organic, Inorganic, Organometallic, Metal organic and Metal clusters can be analyzed after their X-Ray diffraction patterns and intensities, which are scattered by the electron clouds around atoms, are measured. Our aim is to provide detailed three-dimensional architectures of molecules in the crystalline state. A knowledge which can be used to confirm the identity of the materials, provide insight to their formation and parameters for the optimization of the synthetic process, and to further our understanding of their microscopic and macroscopic properties. Additionally, we have collaborative research projects with industrial companies pursuing further knowledge in catalysis and with academic institutions in the field of drug design. Experience and interest includes: catalysis, chemical crystallography, clusters, coordination chemistry, crystal engineering, data collection and processing, disorder, hydrogen bonding, inorganic compounds, materials science, natural products, organic compounds, organometallic compounds, polymorphism, quasicrystals, semiconductors, small molecules, structural chemistry, structure determination, structure-activity relationships, superconductors, synchrotron radiation, teaching and education, X-ray diffraction, NLO, small molecule.
---
George Christou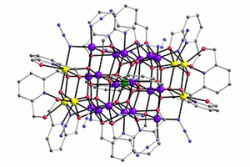 Christou group research is in the synthesis and study of polynuclear transition metal cluster compounds of relevance to several areas, including bioinorganic and materials chemistry. We develop synthetic routes to novel, high nuclearity clusters of the 3d metals V to Cu, with the largest to date being a Mn84 wheel-like compound. We have a particularly strong interest in clusters of Mn and Fe for their often unusual and even unique magnetic properties, such as abnormally high numbers of unpaired electrons and the resulting ability to function as nanoscale magnets. These have potential applications to high-density information storage and quantum computing, which has made them of great interest to chemists, physicists and materials scientists alike. We employ a variety of characterization techniques, including NMR and EPR spectroscopies, electrochemistry, magnetochemistry, mass spectrometry and X-ray crystallography.
---
Leslie J. Murray

Our focus is to design, synthesize, and evaluate transition metal complexes for small molecule activation. In particular, our group is interested in energy-related processes, such as water oxidation, carbon dioxide reduction, and dioxygen reduction.
Metal clusters housed within the active sites of proteins carry out basic and challenging redox reactions, such as carbon dioxide reduction or nitrogen fixation. We expect that well-defined and tunable metal clusters can function as highly efficient catalysts in synthetic systems. Our goal is to develop multimetallic complexes in which a tunable ligands controls the assembly and environment of each metal ion within a cluster (e.g., donor atom type, metal-metal distance). Importantly, one design criterion is that complexes retain an active site, which we anticipate will afford selective reactivity with substrates and increase the catalytic efficiency.
---
David E. Richardson

The focus of our group is the study of kinetics. By learning about the kinetics of chemical processes, we can deduce a mechanistic scheme of how chemical transformations occur. Kinetics also allow for understanding the factors that influence the progression of reactions. This knowledge permits us to make changes in the reaction conditions and/or reagents to manipulate the reaction to suit our needs. A number of physical methods are used by our group to probe reaction kinetics including NMR and UV-Vis. From the data compiled, mathematical equations can be developed to describe the chemical process. Computer simulation may be necessary when reactions are too complex for simple mathematical modeling. Our current research interests fall into a couple of broad categories including chemical warfare agent decontamination and transition metal catalysis.
---
Keith Searles
---
Daniel R. Talham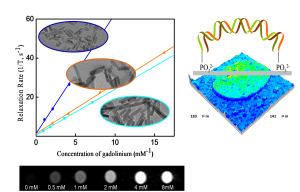 Our group is currently divided between three different materials chemistry and biomaterials chemistry projects. The theme that unites them is an understanding of the importance of surfaces and interfaces.
Magnetic nanostructures and thin films. The first series of projects centers on magnetism and related properties in nanostructures and thin films of synthetic inorganic networks. This class of materials differs from traditional magnets in that synthetic chemistry can be used to prepare systems that combine properties, such as photomagnetism.
Biomolecules at inorganic interfaces. This series of projects probes the binding of biomolecules to synthetic inorganic surfaces. Biomolecule adsorption at surfaces is important for many applications, including sensing and biochip technologies. We develop inorganic surface chemistry aimed a introducing specific ligand/metal interactions that can be used to bind and orient biomolecules at surfaces.
Biomineralization. Our understanding of organic/inorganic interfaces is used to explore important biomineralization processes. Biological inorganic solids generally grow with the help of a biomolecule interface. We are exploring the details of these processes in both purposeful biominerals, such as in shells and bones, and pathological biominerals, such as kidney stones.
---
Adam S. Veige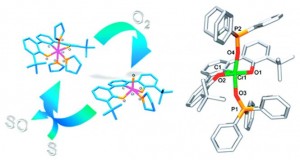 Our research group is primarily interested in the design, synthesis, isolation, and characterization of novel inorganic molecules. Our efforts are concentrated towards building new complexes that either model or affect new small molecule transformations relevant to the industrial sector. We undertake detailed mechanistic studies in order to uncover subtle details of catalytic processes in hopes of building upon or challenging current models of molecular structure, periodic trends, reactivity, and bonding.
Students will become experts in the art of air-sensitive molecular manipulations that require the careful use of ultra-high vacuum-line and inert glove-box techniques. Students will become familiar with a variety of spectroscopic methods. One- and two-dimensional NMR spectroscopy and X-ray crystallography will be applied extensively.
We hope our work will reveal new catalytic transformations that convert inexpensive commodity or feedstock compounds into higher value products for upstream use in specialty chemical synthesis, polymer synthesis, and pharmaceutical manufacturing. We expect to build new molecules that defend or challenge current mechanistic models.
---
Chenjie Zeng
---
Other University of Florida Faculty members with inorganic/organometallic and catalysis research interests:
Lisa A. McElwee-White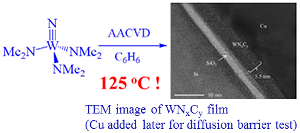 Our research involves applications of organometallic chemistry to problems in materials deposition, methodology for organic synthesis, and catalysis. Recent areas of research include organometallic precursors for the chemical vapor deposition (CVD) of inorganic films that are of interest for manufacture of semiconductor devices, heterobimetallic catalysts for the electrochemical oxidation of alcohols with applications to direct methanol fuel cells, and catalytic carbonylation of amines as an alternative to the use of phosgene and its derivatives.
---
W. David Wei

The goal of this team is to develop a vibrant and productive research program focusing on discovering novel electronic and optical properties of metallic and semiconductor nanomaterials and their implications for electronics, photonics, energy, and biomedicine. A fundamental understanding of the structure-dependent localized optical properties of nanostructures with sub-10 nm resolution will lead to comprehensive knowledge of the surface plasmon-directed growth of novel anisotropic nanostructures, and design rules for the synthesis and fabrication of hybrid nanostructures with optimized properties for solar energy harvesting, conversion and storage, photocatalysis, and chemical and biological detection. All these projects are high impact and interdisciplinary in nature that combine analytical chemistry, physical chemistry, inorganic chemistry and materials science and engineering.